En vandring i akevitt-industriens fotspor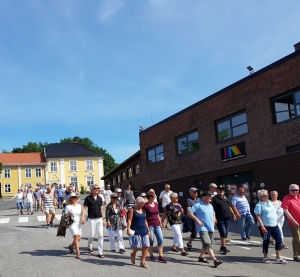 Med tittelen «Med løs jakke gjennom spritbyen Moss» arrangerer Moss by- og industrimuseum en vandring. Vandringen avvikles torsdag 28. oktober 19:00 – 20:30, og skjer i samarbeid med House of Foundation. Foreningen Morsa 1833 er også sterkt inne i bildet ved at vårt styremedlem Erik Sagflaat, æresmedlemmene Per Arild Simonsen og Torill Wyller, sammen med Ole Eide bidrar med fortellinger og informasjon om hvordan Morsa Aquavit ble til. Arrangementet er gratis for deltakere. Oppmøte skjer på Moss by- og industrimuseum. Du kan lese mer om arrangementet på nettsidene til Moss by- og industrimuseum, se lenke.
Etter rundturen trekker følget inn på House of Foundation der deltakerne får mulighet til å smake på den historiske akevitten fra Moss.
https://www.morsa1833.no/wp-content/uploads/2018/06/2016-06-Morsavandring-15.jpg
768
831
Jan Bekkevold
https://www.morsa1833.no/wp-content/uploads/2014/10/logo.png
Jan Bekkevold
2021-10-25 16:53:48
2021-10-28 17:38:11
En vandring i akevitt-industriens fotspor